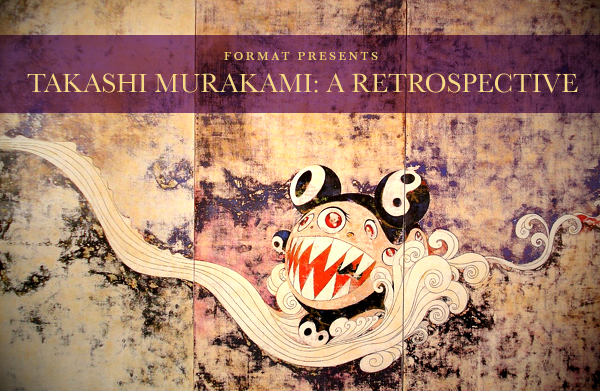 Heralded as the 'Andy Warhol' of Japan, Takashi Murakami has made a name for himself by flooring audiences worldwide with his sculpture, paintings and prints, videos and even handbags. Taking the lowbrow and marrying the concepts with art has never been more lucrative and in demand. However, there is more to this artist than big-ticket luxury goods and mouse pads.
Although his work appears to be cute and lighthearted, there is an underlying message in each happy-go-lucky grin or eager glance from his little creatures. Here is a comprehensive timeline of Takashi Murakami's artistic career—work, exhibitions, education, collaborations and important dates—incorporating every facet of his artistic endeavors. Know him by heart; your history books soon will.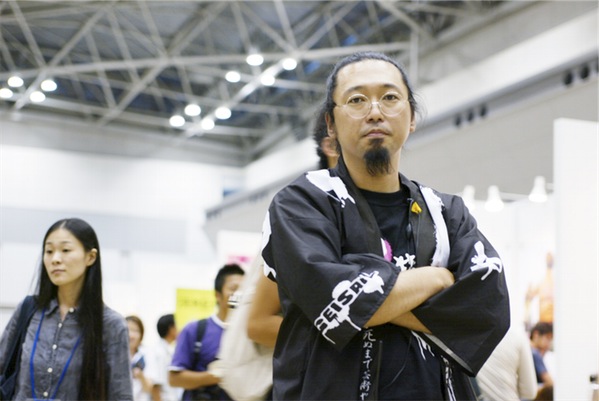 Source: Tokyo Artbeat
1963
This is the year that starts it all. Tokyo hosts the birth of Takashi Murakami on February 1st—little does anyone know, he's to become one of the greatest contemporary artists of our time.
1986
Our prodigy enrolls at the Tokyo National University of Fine Arts and Music only to graduate with a Bachelor of Fine Arts…
1988
…and a Masters of Fine Arts two years later. Murakami proves once again you must know the rules if you're inclined to break them.
1990
Newly educated, Takashi Murakami goes on to exhibit at the Hosomi Gallery in Tokyo, often returning in the future.

Signboard TAMIYA(1991), Signboard TAKASHI (1992)
1991
By now, Murakami starts branching out. He creates Signboard TAMIYA, a large multi-panel canvas. Not only is this a huge undertaking, it begins his experimentation with branding, literally and economically—the seeds are sown and eventually he will become known as the 'Andy Warhol of Japan.' Tamiya is an established model kit company, and Signboard resembles its logo—in fact, the piece itself is literally 'branded' with a hot iron.
1992
This experimentation continues the following year with the creation of Signboard TAKASHI. He follows the same pattern, replacing the colors to yellow and green, nixing the iron-branding—appropriating their slogan, "first in quality around the world."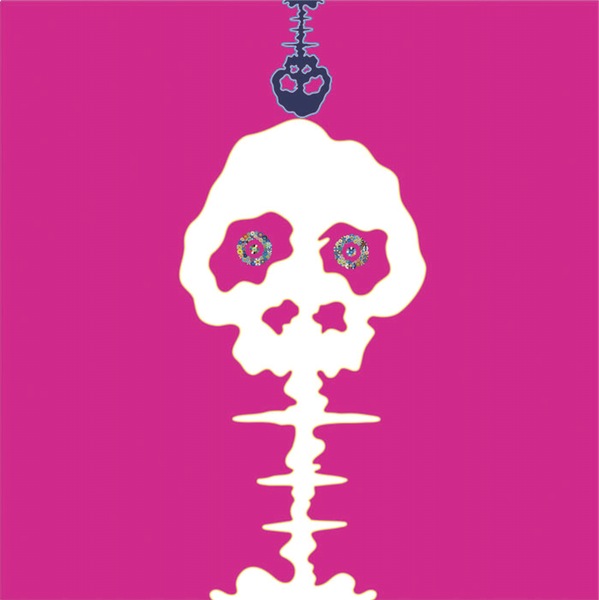 Time Bokan (1993)
1993
Murakami completes his PhD from his alma mater and later stages an installation at the Sezon Museum of Modern Art called Time Bokan. 'Time Bokan,' a Japanese animation series that ran for one year in the '70s, ended every episode with an apocalyptic explosion and the series of his skull-shaped mushroom clouds harks back to it. He also paints DOB Genesis this year, among others, symbolizing the influence of the American on post-war Japanese culture.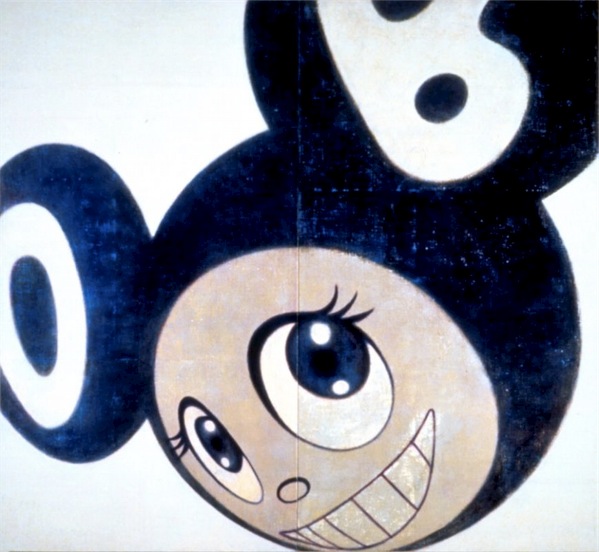 And then, and then and then and then and then (1994)
1994
Between ZuZaZaZaZaZa and And then, and then and then and then and then, a print that will later be found repeated in every different color, Mr. DOB stays a main focus of his work. Resembling Mickey Mouse, the character brings attention to both Japanese and American animation. In 1994, he's happy and cute, but his transformation into a surreal mess of sharp teeth will slowly take place over subsequent years.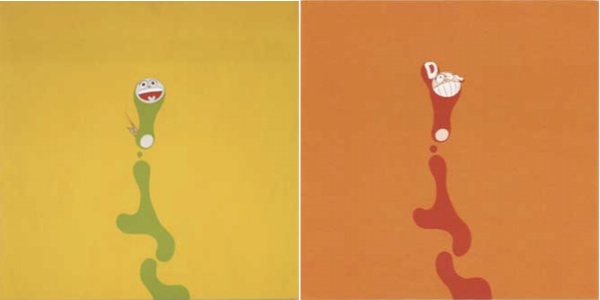 Stew (yellow) and Stew (red) (1995)
1995
If Mr. DOB is in fact Murakami's alter-ego, 1995 was devoted to his own personal development. Visiting New York, alone and broke, the paintings he produced (on a shoe string) all starred this little character. Whether in the Stew series (red, blue, and yellow renditions) or an entire installation devoted to him at the Staatliche Kunsthalle, the character's various manifestations capture different sides of the artist. The Stew series was made using only eight dollars; the result is so minimal his homesickness is tangible.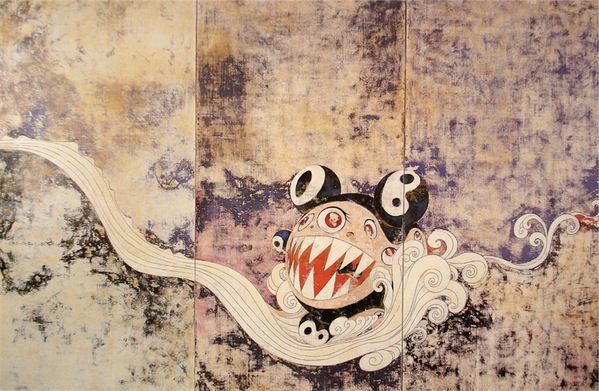 727 (1996)
1996
He founds the 'Hiropon Factory' studio in Saitama, Japan. Though only a fledgling at this point, the studio hires assistants to expedite art production. An example of what comes out of this factory is a very japoniste DOB in 727—a three-panel acrylic-on-canvas—the first painting of Miss ko², and DOB with Flowers. Unlike Stew from the previous year, DOB is happy and cute in this depiction (set in familiar territory).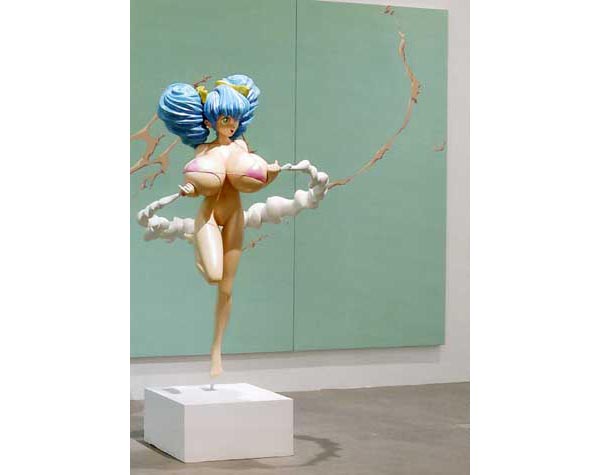 Hiropon (1997)
1997
This year, Miss ko² and Hiropon transform into sculpture and Project ko² is put on installation. The sculptures are symbolic of otaku culture and sexual (and commodity) fetishism. Hiropon is another word for methamphetamine and the sculpture's focus is on its supernaturally endowed mammary glands and their secretions. These hyper-sexualized sculptures are extra large otaku figurines; this year everything is magnified versions of mass-consumable items.
My Lonesome Cowboy (1998)
1998
My Lonesome Cowboy and Cream, Milk, and Spring Liquid (paintings of spraying 'fluids') further accentuate his ideas of sexual fetishism. And as those ideas grow, so too does the 'Hiropon Factory' expand: Murakami opens the 'Hiropon Factory New York' studio. DOB's disposition is happy, but gradually getting more grotesque—with pointy teeth and surreal environments (like in Castle of Tin Tin)—and Murakami starts using his anthropomorphic, smiling flowers. When the older DOB appears occasionally in these abstractions, he looks worried and out of place—like a personal transformation is slowly pushing the Mickey-Mouse-esque version out.

Super Nova (1999)
1999
Second Mission Project ko² (Human Type) witnesses another installation and DOB in the Strange Forest is set up at Art Basel in Switzerland. Once again, DOB looks bewildered while PO+KU Surrealism DOB in its various colors frames it (the newer, grotesque DOB staring the old one down). He completes Super Nova, among Murakami's greater accomplishments, depicting a myriad of mushrooms on a silver canvas (reminiscent of Warhol). Decorated with mushrooms inspired by Ito Jakuchu's and mushroom clouds instead of Elvis, both an icon and a pop crisis, Super Nova cements the mushroom as an icon and crisis of Japanese culture.
Kaikai Kiki News (2000)
2000
In the spring, a Hiropon web site launches, along with a handful of exhibitions. Kaikai and Kiki take over as the focus of his work and spiritual guardians; 'kaikaikiki' is a term used to describe the work of artist Kano Eitoku, meaning 'bizarre, yet refined' and 'delicate, yet bold.' Kiki is depicted with dopey eyes, but an alert third eye—a reference, perhaps, to drugs and perception. The artist's increasingly frequent use of silver canvases is an explicit return to nihonga—the traditional Japanese painting style Murakami studied in depth—and yet reminiscent of Warhol's screen prints.
Tan Tan Bo (2001)
2001
Murakami hosts the famous 'Superflat' exhibition, drawing an audience of 95,000 people—with the goal to capture the flattened forms of Japanese art, and the "shallow emptiness of Japanese consumer culture." Following this, Murakami registers Hiropon Studio under 'Kaikai Kiki Co. LLC' and, in the following months, opens two more studios. During the summer, he launches an i-mode web site and exhibits at the Museum of Contemporary Art in Tokyo. The Time Bokan series resurfaces in new color combinations and paintings like Tan Tan Bo depict increasingly surreal, multicolor DOBs—Melting DOB D particularly, with a multicolor DOB melting down the canvas (evoking Dalí).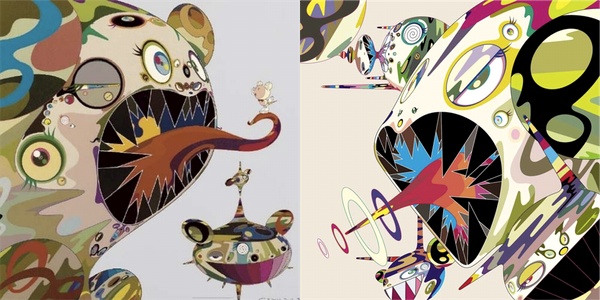 Homage To Francis Bacon (Study Of George Dyer) and Homage To Francis Bacon (Study Of Isabel Rawsthorne) (2002)
2002
This year sees the first of many GEISAI conventions held to give young Japanese artists exposure, each one drawing thousands of visitors. Murakami makes two paintings in homage to Francis Bacon, in which the surreal portraiture is inverted to appear to be looking at Bacon's own renditions of Dyer and Rawsthorne. In contrast to the grotesque characters of these paintings, Murakami creates three versions of his Flower Ball sculpture.

Superflat Monogram (2003)
2003
Working with Marc Jacobs designing purses for Louis Vuitton was a hugely successful venture and a very wise, consumable career move, establishing him as a household name. Murakami also tries his hand at animation with 'Superflat Monogram,' an animated short marking the LV launch. The year is defined by 'Superflat,' when the concept behind most of his art (the flattening of all sorts of artforms into one) is most pronounced.

Inochi (2004)
2004
Murakami establishes the 'Kaikai Kiki Animation Studio' in Tokyo and a web site for it. He also develops his Inochi sculptures serving to problematize the discerning of human from non-human. Standing about five feet tall, the sculptures embrace both human characteristics and cyborg-like technology, accompanied by a series of short videos putting the Inochi (lit. "life") in a classroom setting and experiencing life—from wet dreams to lactose intolerance—and complex emotions. The videos establish the Inochi as an outsider in modern life, but also as a terrifying metaphor for adolescence and puberty. The life-like, relatable sculptures incite in the viewer a sense of the uncanny—repulsing the viewer, but recognizing it as 'life.'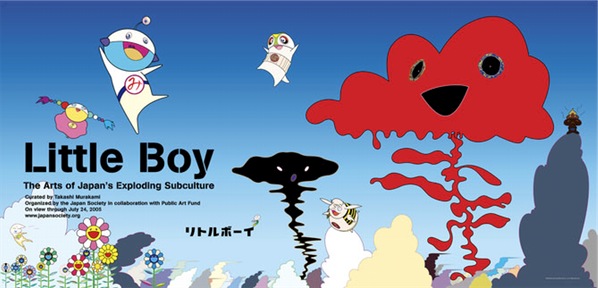 'Little Boy'
2005
Murakami curates 'Little Boy' for the Japan Society in New York; its namesake is the Hiroshima bomb's codeword. The exhibition sets out to demonstrate the effect of the A-bomb on post-war Japanese popular culture. Murakami included other leading artists, both contemporary and past, involved in otaku culture to exposit its fetishistic and apocalyptic imagery. Recalling Murakami's Time Bokan, where the tragedy is combined with the reference to a cartoon, the cultural ramifications of the bomb on Japanese culture are laid 'flat' in the exhibition: a demonstration of what Murakami refers to as the "tragic apocalyptic paradise that is Japan today."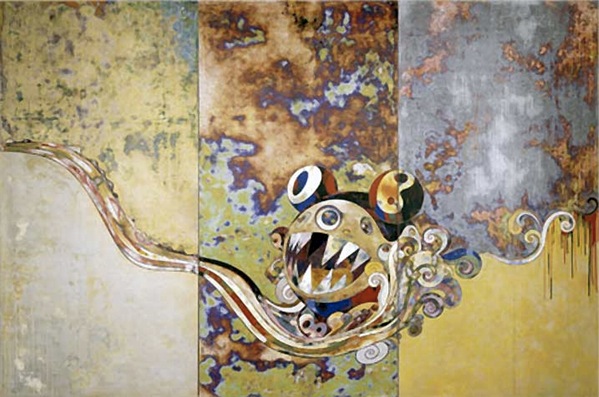 727-727 (2006)
2006
Along with two exhibitions and an installation, Murakami completes 727-727, a remake of the older 727. '727' refers to a Japanese cosmetic company—inspiring an examination of cosmetics as a consumable ordering principle—but at the same time references Boeing airplanes, which have no bearing whatsoever on cosmetics (a concept that Murakami describes as "stupid," but "cool"). The painting's background appears corroded—consisting of myriad layers of paint applied and subsequently sanded down—recalling the bomb that was the focus of his work and curating the prior year.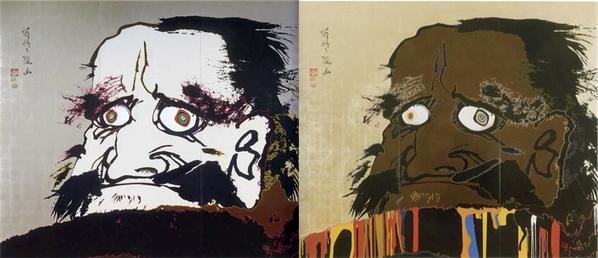 I open wide my eyes but see no scenery. I fix my gaze upon my heart and That I may time transcend, that a universe in my heart may unfold (2007)
2007
Kanye West and Murakami start collaborating; he designs the cover art for three of West's singles, while also directing the cover art for the Graduation album. The same year witnesses I open wide my eyes but see no scenery. I fix my gaze upon my heart and That I may time transcend, that a universe in my heart may unfold—two portraits of Daruma, the Indian monk who introduced Zen Buddhism to China. Murakami also puts on the Daruma exhibition, 'Tranquility of the Heart, Torment of the Flesh—Open Wide the Eye of the Heart, and Nothing is Invisible,' at the Gargosian Gallery in New York.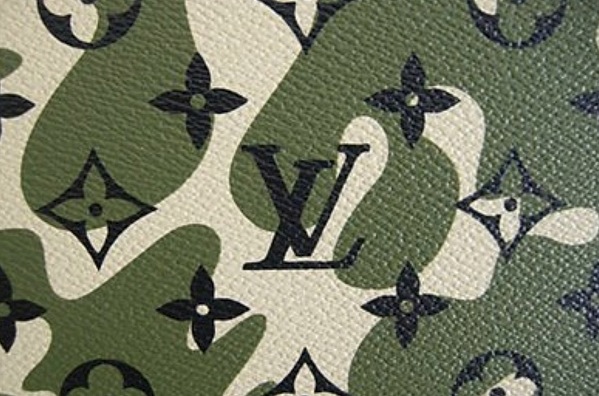 'Monogramouflage'
2008
Murakami exhibits at many important venues including the Brooklyn Museum and the Museum für Moderne Kunst in Frankfurt am Main, Germany. Another milestone for the artist is the retrospective held at the MoCA in Los Angeles in which a Louis Vuitton boutique was established to sell his latest designs: 'Monogramouflage' bags. Sold exclusively at the show, Murakami once again proves himself to be a master of consumer goods.

Superflat First Love (2009)
2009
In February, he exhibits at the Guggenheim Museum in Bilbao, Spain. He designs the first customized and 'designed' QR Code for Louis Vuitton. To celebrate the sixth anniversary of the initial LV purse launch, he also makes 'Superflat First Love.' To boot, he has recently announced a LV sneaker and unveiled a Kanye West collaborative sculpture. What's next, we'll never know. However, it looks like consumables are his main focus.
Latest posts by Maggie McCutcheon (see all)