My friends, The Dust Dive, just released their second album 'Claws of Light'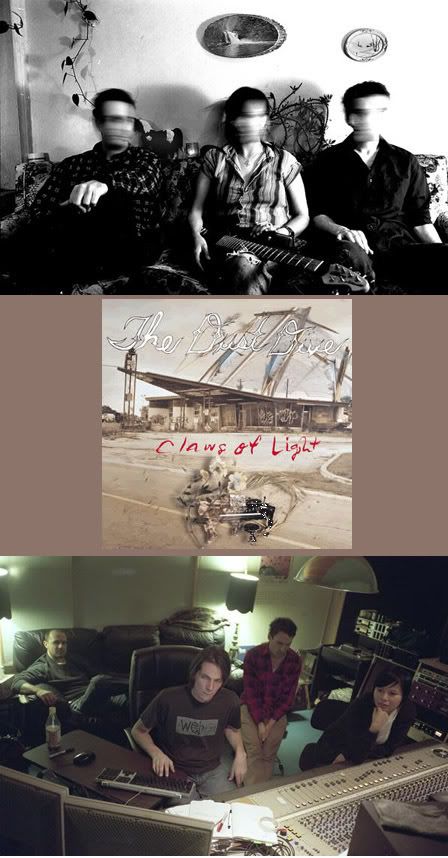 They are a hard band to describe, so I won't try…
-but here's some info on the record for ya:
Weird, warm, and enigmatic, the Dust Dive returns from another long field trip with Claws of Light, the captivating follow-up to their critically acclaimed debut, Asleep or Awake Walk. "Like modern Huck Finn tales where the Dionysian clashes with the suburban" (in the words of D. Shawn Bosler of The Village Voice), the Brooklyn-based trio's new covey of songs soars with gritty equanimity and uncommonly vivid verse, evoking an urban-pastoral world that is mutually arcadian and trashy, dreamy and deadpan, magical and everyday. Claws of Light also maps a wild and curiously deranged sonic landscape, spanning from punk to classical, pre-war American folk to psych, gypsy violin to naturalist field recordings, and classic rock to outsider Americana. When asked to describe their sound, Dust Dive organist Ken Switzer, who spent much of his youth in the backwoods of rural western Massachusetts, offers up the label "experimental campfire music."
Dust Dive multi-instrumentalist Laura Ortman (an accomplished film-soundtrack composer, session violinist and member of the White Mountain Apache tribe) describes Claws as "party songs without the party music." The method of recording this album surely fueled the party. In an effort to preserve their relaxed homegrown ambience, the Dust Dive asked Sebadoh and Fiery Furnaces member and veteran guerilla engineer Jason Loewenstein to record the songs at the band's namesake fort*—a cozy half-railroad apartment located on Flatbush Avenue. (Chief vocalist/lyricist and Kansas native Bryan Zimmerman calls Brooklyn's strange and colorful thoroughfare "our river.") Throughout last autumn and winter, Loewenstein dove in and spent weekends recording Claws within a labyrinth of acoustic forts rigged from scrapwood and blankets. Air-drumming during playbacks eventually compelled him to pick up his sticks and crown the record with drums on the leadoff "Babyface in a Pickup Truck," as well as "Rope Swing 2000" and "Green River."
*As an added bonus, Claws of Light also features one track immaculately recorded and mixed by Patrick McCarthy (Latitude/Longitude, Enochane) at the cozy Seaside Lounge, which also ultimately served as the mix-to-tape clubhouse for Claws.
They'll be touring Europe in March…
Check em out!
I enjoy drawing. My inspiration stems from Holiday in Cambodia, Geraldo getting hit with a chair, Rip Torn, that little old guy that was Benny Hill`s side-kick, Mr.T, Shaft, Dolemite, Superfly, Foxy Brown, Neil Diamond, What`s New Pussy Cat, Deputy Dawg, The San Diego Padre`s Chicken, Marty Scorscesse, Bobby Deniro, Junk Yard Dog, J.J. Jackson, Pineapple Now`n`Laters, Kareem Abdul Jabar in the movie Airplane, Paul Reubens at the movies, Mr. Green Jeans, Dr. Hook`s `Baby Makes Her Blue Jeans Talk`, The Banana Splits, Darby Crash, Public Enemy, Donald Duck swearing in duck language, Good Times, The Three Men and a Baby Boy, Grand Master Flash and the Furious Five, Edith Massey, Flounder, Mushmouth, Gary Coleman, Tootie, Jack Tripper`s friend Larry, Ozzy, Lux Interior, Earth, Wind & Fire, Harvey Keitel in The Bad Lieutenant, NWA, Female Trouble, that `Where`s the Beef?` lady, Raging Bull, Prison tattoos, Larry, Daryl & Daryl, Shemp, Jeff Spicoli, Chris Farley, Ted from Mary Tyler Moore, Ol`Dirty Bastard, Bruce Lee, The Fat Boys, Car Wash, Froggy from The Little Rascals and Hot Buttered Soul. {partial list}